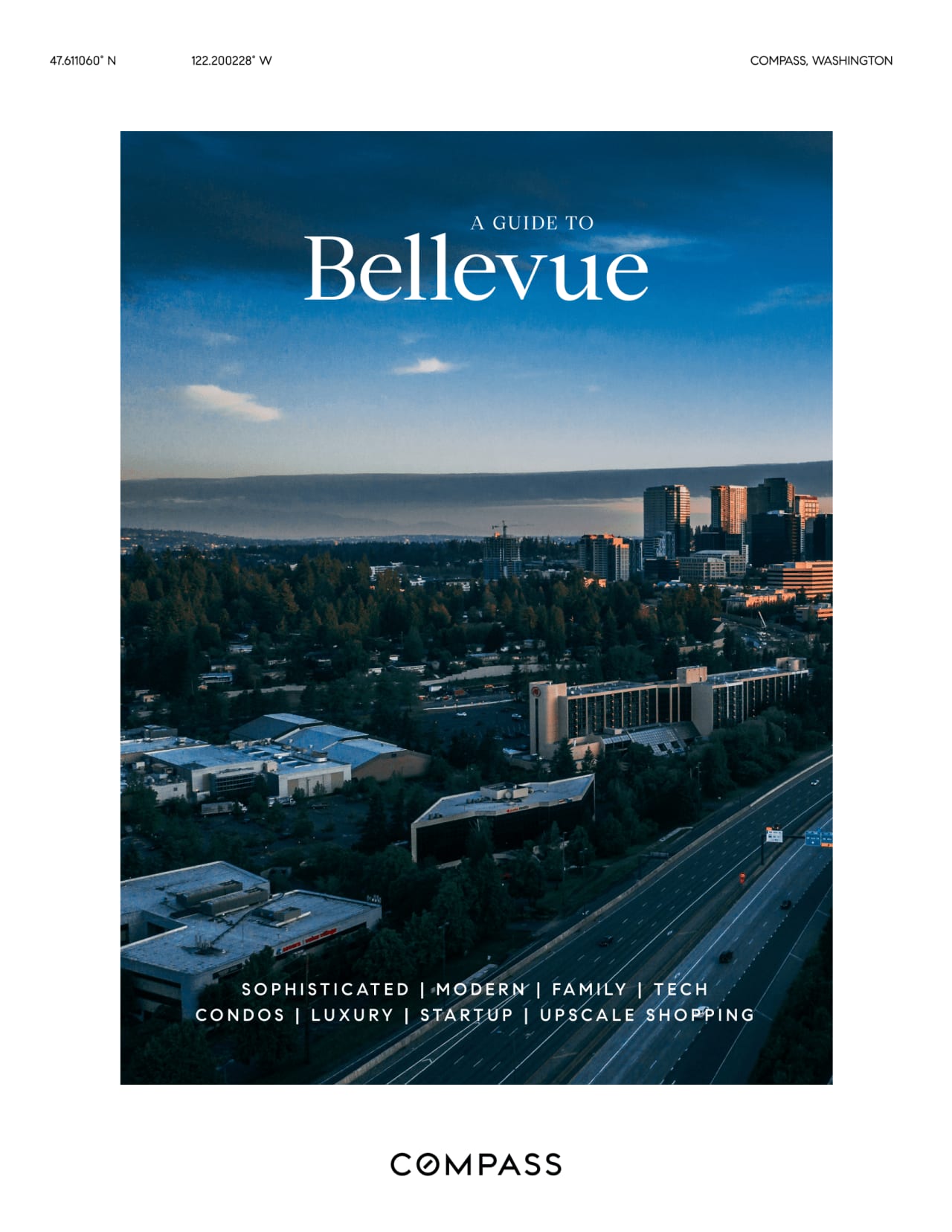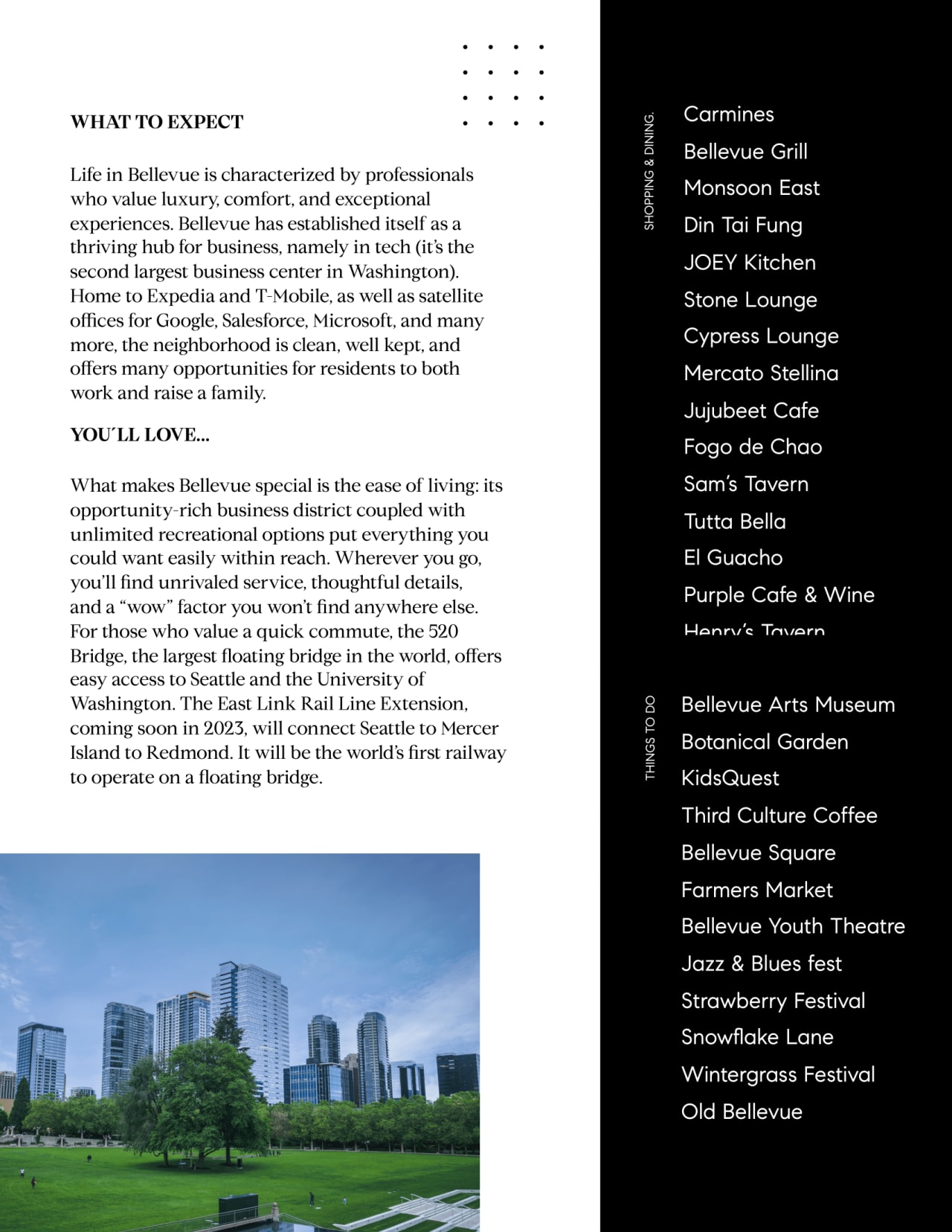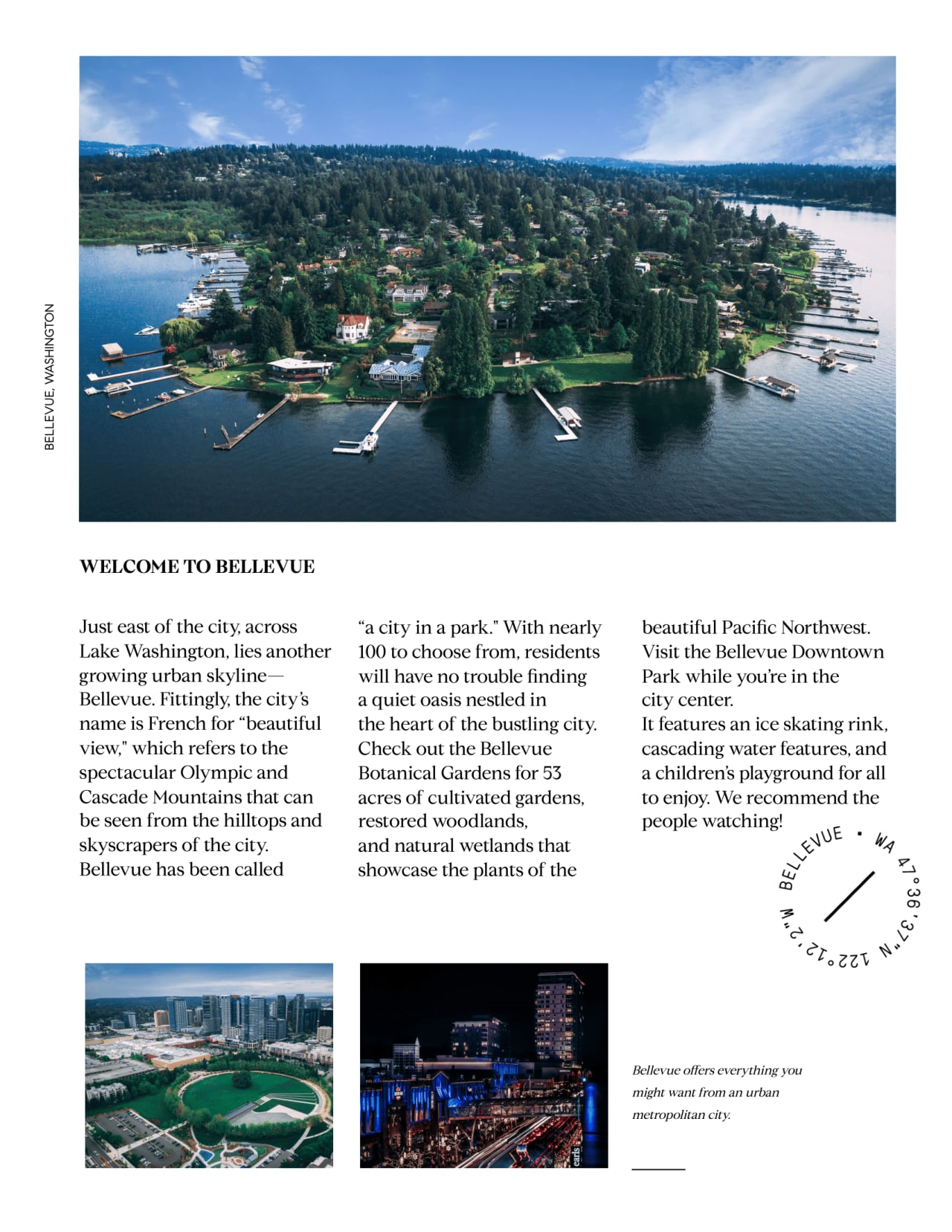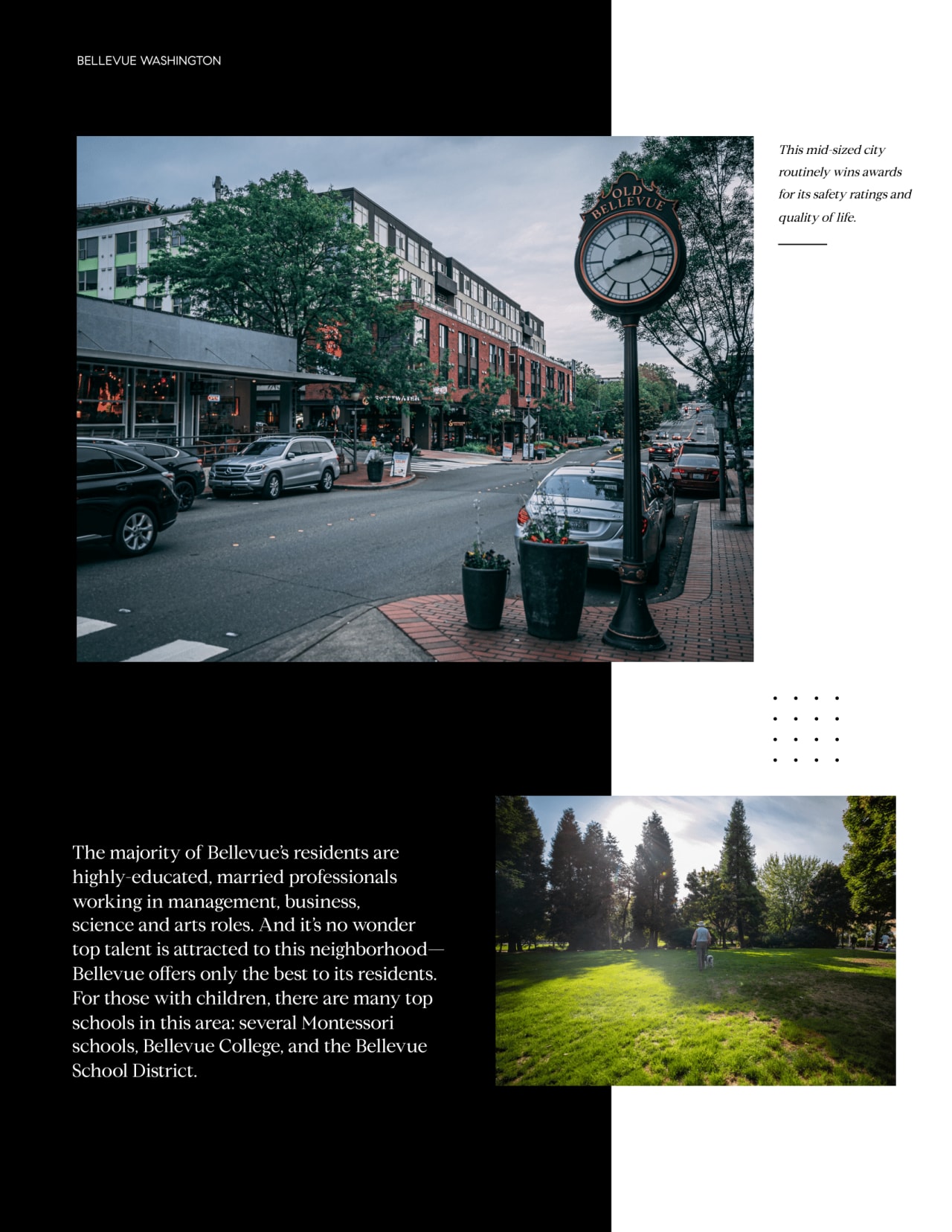 Welcome to Bellevue
Bellevue, Washington is an affluent, family-minded, and business-friendly city located just minutes from Seattle. As its name suggests, "beautiful view," residents enjoy the breathtaking surroundings of Lake Washington on one side and Lake Sammamish on the other. Not to mention, the majestic sights of the Olympic Mountains to the west and the Cascade Mountains to the east – the perfect skyline views for both sunrises and sunsets.
Bellevue Resources
About and Official City Links
Community
Parks & Recreations
Resource Guide

Parks

Recreation

Golf


Education, School Zones, Links, Reviews
Real Estate
History
Founded in 1869 by William Meydenbauer, the early residents of present day Bellevue were mainly miners, loggers, and farmers, all working hard to meet the demands of progress. In the 1920s, developer James S. Ditty, known as an "adventurous entrepreneur" and "hard-nosed" businessman, saw incredible potential in the little town. He predicted Bellevue would become a thriving city, increasing the eventual population of the eastside to 200,000. Today, Bellevue is indeed more than a suburb of Seattle, standing tall with its downtown skyscrapers, modern office spaces, urban condominiums, high-end shopping centers, and luxurious lifestyle homes.
Community
Bellevue is a remarkable place to live, work, and raise a family – not only attested to by its residents but also confirmed in recent write ups in CNN-Money and USA Today. Bellevue's national media exposure is well deserved. Bellevue has a lot to offer:
Bellevue Square and One Lincoln Tower, one of the region's largest and most vibrant shopping centers

Bellevue Arts Museum and Eastside Heritage Center, to engage visitors in art and history

Scenic golf courses and country clubs

Meydenbauer Center, offering one of Washington's best venues for conventions, banquets, trade shows, and performing arts theatre

Bellevue Downtown Park, a 20-acre respite in the heart of downtown, complete with a waterfall and pond


Resources
Shopping & Dining
Carmines
Bellevue Grill
Monsoon East
Din Tai Fung
JOEY Kitchen
Stone Lounge
Cypress Lounge
Mercato Stellina
Jujubeet Cafe
Fogo de Chao
Sam's Tavern
Tutta Bella
El Guacho
Purple Cafe & Wine
Henry's Tavern
Things to Do
Bellevue Arts Museum
Botanical Garden
KidsQuest
Third Culture Coffee
Bellevue Square
Farmers Market
Bellevue Youth Theatre
Jazz & Blues fest
Strawberry Festival
Snowflake Lane
Wintergrass Festival
Old Bellevue
Real Estate
If you're thinking of buying a Bellevue home, townhouse or condo, one of the biggest questions you'll have to answer is "Where will I live?" Do you prefer an urban high-rise loft or a spacious hilltop home? Chances are that either choice will offer panoramic views of the Olympic and Cascade Mountains. The median price of homes in Bellevue is $809,000.
An experienced real estate agent can help you to find the perfect Bellevue home. Give Roy Towse a call today at
(425) 444-8089
for immediate, personalized help in finding the home of your dreams. If you prefer, you can also
click here
to get in touch.