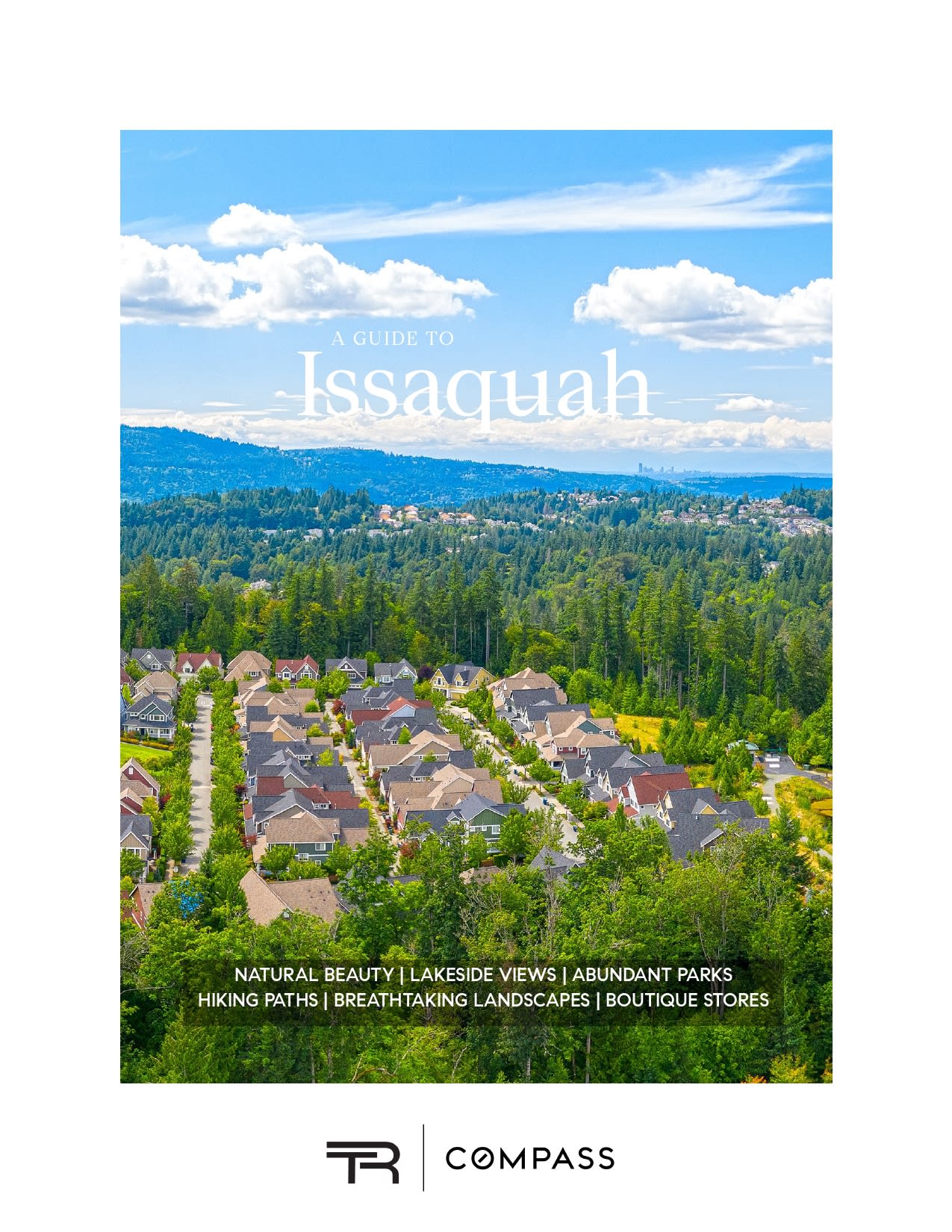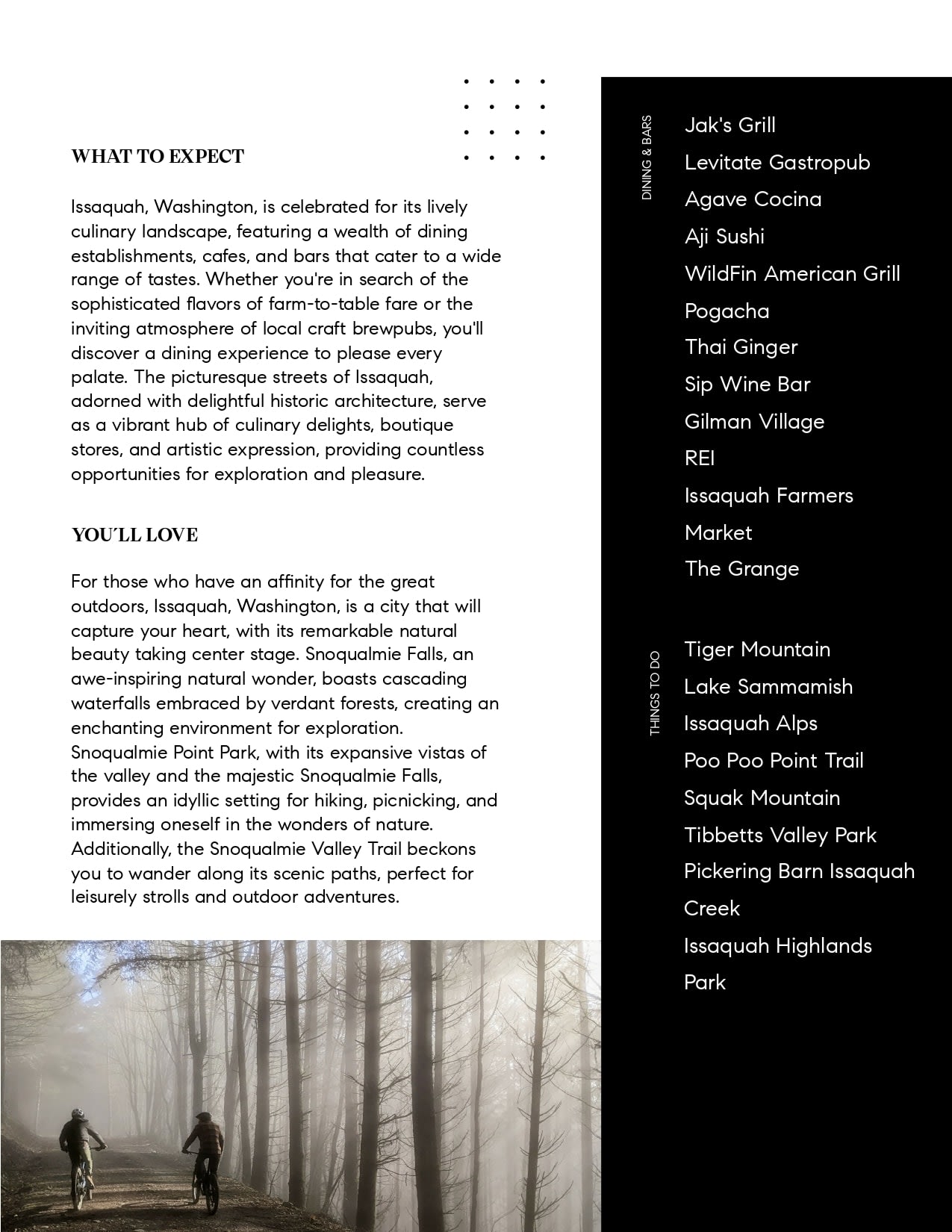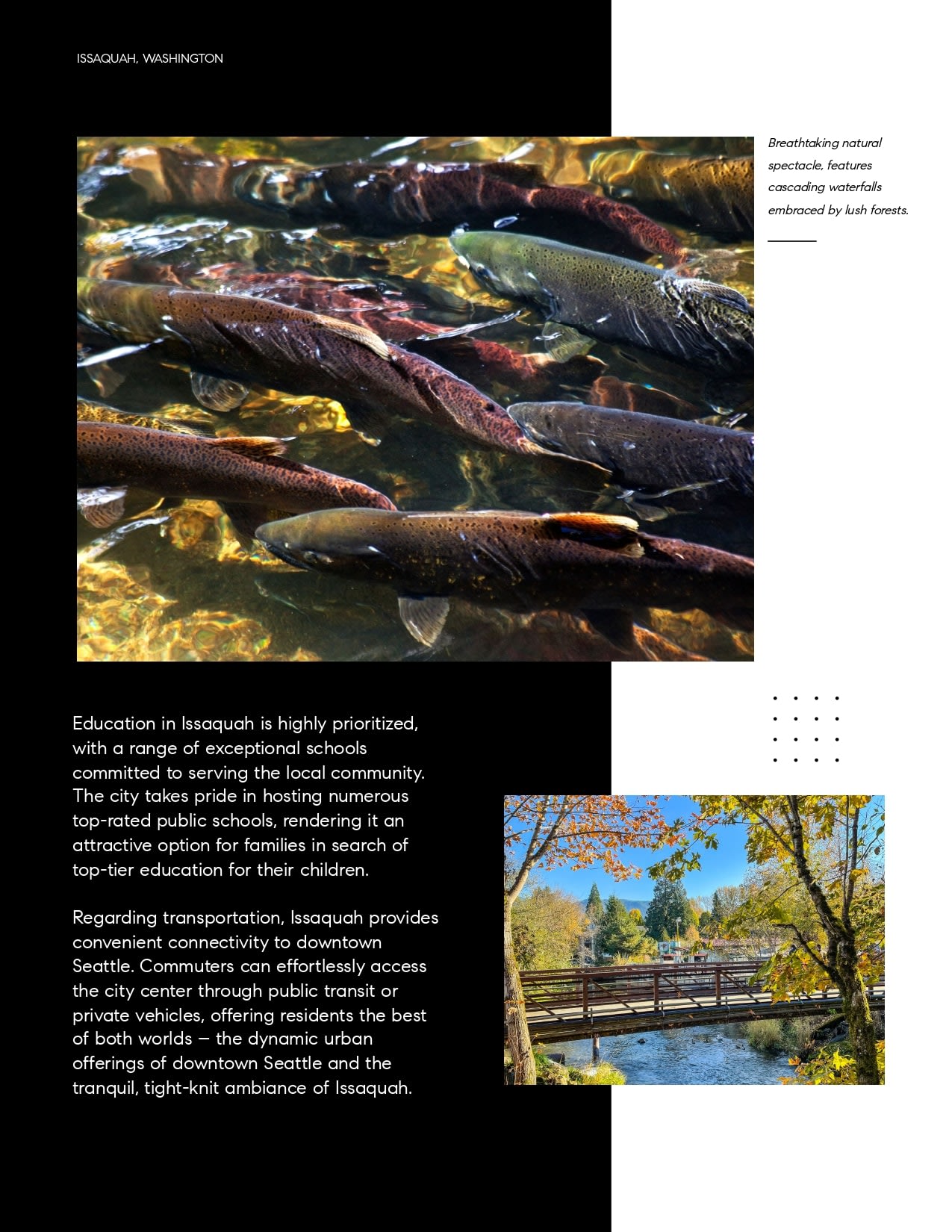 Welcome to Issaquah
Issaquah, Washington is a rapidly growing and high-end community where thousands of Washingtonians have chosen to settle, due to its natural beauty and suburbial amenities. Located just 17 miles east of Seattle, Issaquah claims the south end of Lake Sammamish and its remaining three sides as outlined by the Issaquah Alps: Cougar, Squak, and Tiger Mountains. Issaquah is a clear choice for active outdoor buffs, water fans, and nature lovers.
Issaquah Resources
About and Official City Links
Community
Parks & Recreations
Resource Guide
Education, School Zones, Links, Reviews
Real Estate
List of neighborhoods
East Village

Gilman

Highlands

I-90 Subarea

Lake Tradition

Montreux

Newport

North Issaquah

Olde Town

Park Pointe

Squak Mountain

Sycamore

Tibbetts Creek Valley

History


Incorporated in 1892, Issaquah has deep roots in the mining and lumber industries. Economical progression for more than 123 years currently leads with Boeing, Microsoft, Costco, and Swedish Medical Center to fuel the development and cultural diversity in Issaquah. Forbes Magazine ranked Issaquah as the second-fastest growing suburb in the State of Washington. More impressively, Issaquah stacks up well nationally and is one of the 100 fastest growing cities in America.
Community
The lives of Issaquah residents revolve around plentiful business opportunity and recreational fun. Filled with growing neighborhoods, thriving companies, and great schools, Issaquah provides an abundance of resources and community-minded events for all ages. Here are some of the perks available in Issaquah:
World-renowned hot spot for paragliding on Tiger Mountain

Rigorous hiking trails, and other physically challenging outdoor activities for the adventurous sort

Salmon Days Festival; this record-attending community celebration kicks off with the Grande Parade and boasts two fun-filled days of activities, sporting events, art walks, and international food tastings

Farmer's Market, attracting patrons from miles around for more than just local produce. This seasonal market is a central establishment for local artists, trade booths, family activities, musical performances, as well as on-site cooking and gardening classes

Championship golf courses and country clubs

Cougar Mountain Zoo, committed to endangered species and education


Resources
Things to Do
Pickering Barn Issaquah Creek

Real Estate
As you can see, there are plenty of advantages with choosing your next home in Issaquah. Regardless of whether you want to buy a new home in one of Issaquah's most exclusive neighborhoods, or you're in the market for a townhouse or a condo, Issaquah is an up and coming community with plenty offer.
To get in touch and learn more about the current homes available in Issaquah,
click here
or give Roy Towse a call today at (425) 444-8089. He'll be happy to get to know more about you and your ideal Issaquah home.